A retired Harvard psychiatry professor described President Donald Trump as "essentially a predator" and a "successful sociopath."
A retired Harvard psychiatry professor described President Donald Trump as "essentially a predator" and a "successful sociopath."
Lance M. Dodes, MD, a former assistant clinical professor of psychiatry at Harvard Medical School, is yet another mental health expert to call into question the president's state of mind
"His focus on his personal benefit at any cost is why he's a successful sociopath," Dodes told Salon, adding that he can "see Donald for who he really is."
"It's very hard to get this across to the public, because every time people talk about him, they start out with the unspoken unconscious assumption that he's basically like the rest of us," Dodes told Salon.
"But in order to explain and predict Trump's behavior, you have to begin with awareness that he is essentially a predator.
"Once you keep in mind that Trump lacks a conscience and lacks empathy, he becomes very easy to follow. Unlike normal people, who are complex, he's basically running on a very simple and very disordered program."Related Stories
Last week, John M. Talmadge, MD, a physician and clinical professor of psychiatry at U.T. Southwestern Medical Center, wrote on Twitter that Trump's "mental impairment means he cannot think strategically or in abstract terms."
"Trump does not have a vision or a plan, because he can think only in concrete, elementary, childlike, one dimensional terms," Talmadge, who was commenting in a personal capacity, wrote.
"He does not process an abstract idea like American forces stabilizing a multilateral conflict with geopolitical implications.
"This Trumpian brain failure is hard for normal people to understand because for normal people, abstract thought is natural, baked in, largely unnoticed. Normal people see the consequences, assess risk, make rational decisions most of the time."
Earlier in October, Daniel Gilbert, a professor of psychology at Harvard University, suggested that Trump should be detained involuntarily to assess his mental health.
It followed a tweet by Trump in which the president claimed he would "totally destroy and obliterate the Economy of Turkey (I've done before!)" if Turkey did anything that "I, in my great and unmatched wisdom, consider to be off limits."
"Am I the only psychologist who finds this claim and this threat truly alarming? Wouldn't these normally trigger a mental health hold? Right and Left must set aside politics and agree that there is a serious problem here," Gilbert wrote on Twitter.
Last year, Bandy Lee, MD, a Yale psychiatrist, told Newsweek that a longtime Trump family friend approached her with concerns about the president's well-being. She also said two officials from the administration did the same.
Lee wrote in a piece for The Conversation that Trump displayed "psychological symptoms reflective of emotional compulsion, impulsivity, poor concentration, narcissism and recklessness."
In a recent article for The Atlantic, George Conway, an attorney and former Republican who is married to senior White House adviser Kellyanne Conway, detailed at length the evidence that Trump is mentally unfit to hold his office.
"Simply put, Trump's ingrained and extreme behavioral characteristics make it impossible for him to carry out the duties of the presidency in the way the Constitution requires," Conway wrote.
"The question is whether he can possibly act as a public fiduciary for the nation's highest public trust… Given that Trump displays the extreme behavioral characteristics of a pathological narcissist, a sociopath, or a malignant narcissist—take your pick—it's clear that he can't."Related Stories
As the impeachment process against Trump rolled on, a letter to Congress signed by 250 medical professionals led by Bandy Lee warned lawmakers to take into consideration the president's mental state.
The letter stated that Trump "has the pattern of fragile sense of self and is prone to blame and attack others when threatened" and has "shown himself willing to encourage violence against his perceived enemies."
"The unfolding of an impeachment inquiry raises the specter of President Trump feeling threatened in ways he never has before," the letter said.
"This sense of threat is likely to lead to an exacerbation of his attacks on perceived enemies and to increased encouragement of violence against them. This encouragement may lead to violent actions by others, such as we have seen over the last couple of years but highly exacerbated."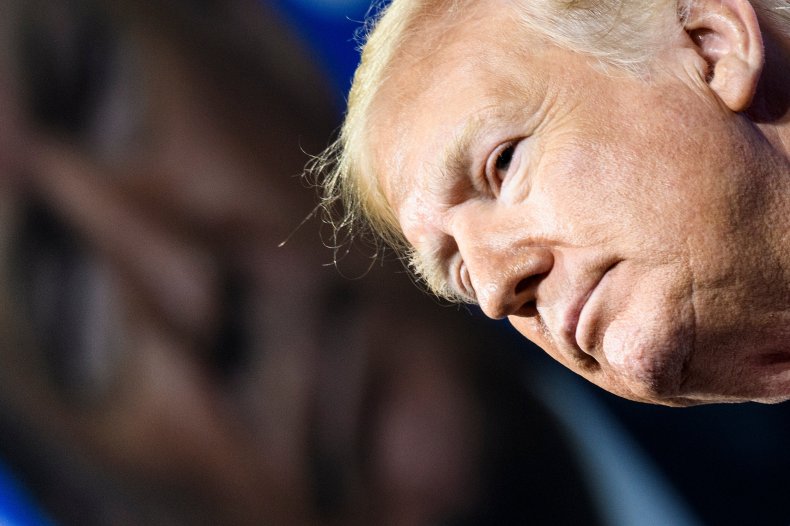 We greatly thank you for your on-going generous financial and enthusiastic personal support in appreciation for this site!