At least two German soldiers have been arrested for plotting to commit a false flag attack and blame it on Syrian refugees. The intense focus on so-called "Islamic terrorism" obscures the threats of white nationalists and neo-Nazis that pose a far deeper and greater threat to Europe than even Islamist extremists.
 Second German soldier arrested over 'false flag' plot to assassinate left-wing politicians in terror attack
Prosecutors say Maximilian T covered for friend as he posed as Syrian refugee
via Lizzie Dearden, INDEPENDANT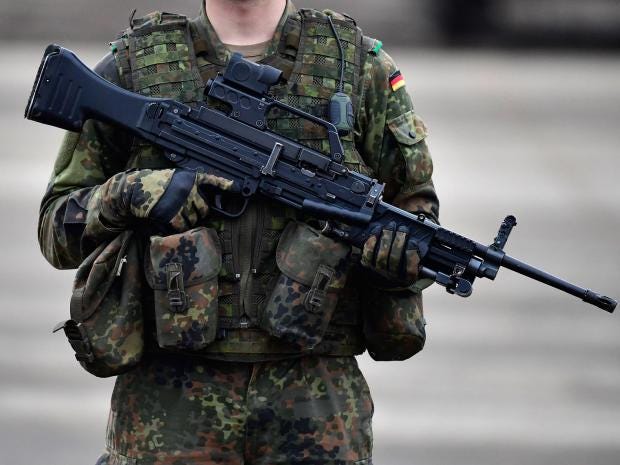 A second soldier has been arrested for allegedly planning a "false flag" terror attack to be blamed on refugees in Germany amid fears of a wider neo-Nazi network within the army.
The plot was exposed with the arrest of a German lieutenant, Franco A, who was found to be posing as a Syrian refugee in order to carry out a shooting attack targeting left-wing politicians.
One of his friends at Illkirch-Graffenstaden barracks in France has now been detained for allegedly covering for the soldier's absences as he periodically returned to Bavaria to continue the ruse.
​Maximilian T, a 27-year-old German national, was also a member of Jägerbataillon 291 and was arrested on Tuesday after being questioned by military intelligence officers.
He had joined his friend on a trip to Vienna in January – supposedly for an officers' ball – where Franco A stashed an unregistered gun to be used in the attack at the city's main airport.
Maximilian T was also part of an online messaging group where he, Franco A and other members exchanged far-right posts, photos and audio files, Der Spiegel reported.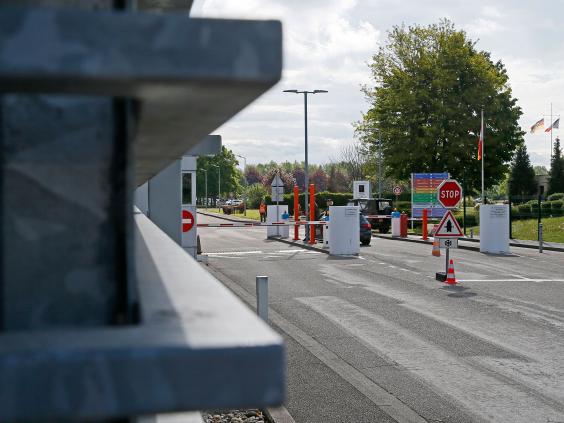 He is assumed to be "number three" in the plot, following Franco A and Mathias F, a friend from his hometown who was also arrested in April.
"They were willing, or at least claimed to be, to kill for their cause," an investigator said.
As well as the loaded 7.65mm pistol stashed in a toilet at Vienna International Airport, around 1,000 rounds of ammunition were found at Mathias F's home in Offenbach – mostly stolen from the German army.
The federal prosecutor's office said the three suspects were suspected of planning to attack senior politicians and public figures "who are committed to an immigration and refugee policy which has failed in the view of the defendants".
The names of the former German President, Joachim Gauck, and left-wing justice minister Heiko Maas (SPD) were on a list of potential targets, said spokesperson Frauke Köhler.
She told a press conference Franco A planned to frame Islamist militants for the attack, which would have been linked to his fake identity as a Syrian refugee.
"The three suspects wanted to direct suspicion at asylum seekers living in Germany after the attack," she added.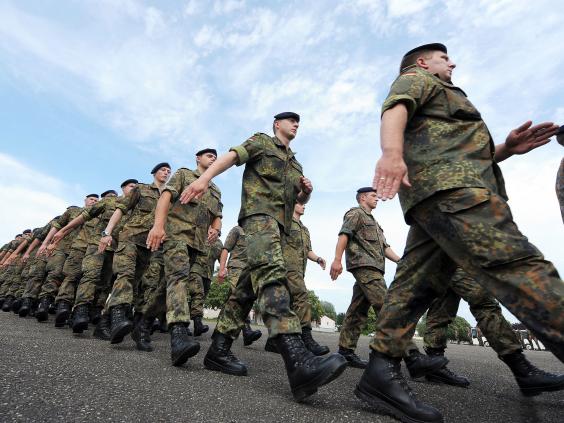 "The planned attack was intended to be interpreted by the population as a radical Islamist terrorist attack by a recognised refugee.
"Especially with regard to the ongoing public discussion over immigration and refugee policy, an alleged terrorist attack by a registered asylum seeker would have attracted particular attention and contributed to the sense of threat."
Numerous asylum seekers have been arrested on terror charges in Germany, including former members of Isis, al-Qaeda and the Taliban.
Franco A had created a fake persona under the name David Benjamin, telling immigration officials he was a Damascus fruit seller from a Christian family with French roots.
No doubts appear to have been raised over the credibility of the 28-year-old's background, despite him speaking mainly French with a smattering of Arabic from a language course.
The lieutenant registered in Giessen, Hesse, on 30 December 2015 – as Germany was overwhelmed by the arrival of almost a million asylum seekers – then submitted an asylum application at Zirndorf in Bavaria in January last year.
Despite having to return to Germany to collect monthly welfare payments, Franco A continued his army post in France until the day of his arrest because his friend covered for him, prosecutors said.
"Maximilian T is strongly suspected of planning a serious act of violence against the state out of a right-wing extremist conviction," a spokesperson added.
"The resulting absences were at least partly covered up by Maximilian T, who had excused Franco A to his superiors."
Officials said he obtained a Second World War era Unique Model 17 pistol for the attack, which he hid in a disabled toilet in Vienna International Airport while passing through in January.
PAYPAL :- we value your ongoing support and generous donations that assist the production of this site.
Join us on Facebook in discussion:-

https://www.facebook.com/groups/377012949129789