The French conspiracy theory to end all conspiracy theories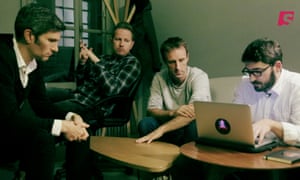 From left to right: Spicee co-founders Jean Bernard Schmidt and Antoine Robin, editor-in-chief Matthieu Firmin and documentary-maker Thomas Huchon. Photograph: Spicee
Thomas Huchon and Antoine Robin's bogus film about Aids and the CIA is being
shown in French schools in an effort to educate students about disinformation
by Paul Hill
The CIA invented the virus that causes Aids in the 1960s to wage war against Castro's Cuba, according to a French documentary that started to spread online six months ago.
The 42-minute online film alleged that the United States was now lifting its 50-year embargo in a cynical move to give the American pharmaceutical industry access to a vaccine developed by Cuban scientists.
But none of it was true.
Even Lionel Perrottin, the mysterious figure behind the footage, was a fabrication.
The bogus film was the brainchild of documentary-maker Thomas Huchon and Antoine Robin, co-founder of the Paris-based video journalism site Spicee.
Sign up today and receive exclusive member newsletters, networking opportunities, member-only discounts and more.
Click here
Troubled by the emergence of conspiracy theories in the wake of the Charlie Hebdo shootings, their "Conspi-Hunter" project was intended to show how quickly and easily disinformation can spread.
Huchon posed as his alter-ego Perrottin on social media, building a following of more than 500 people before publishing the bogus documentary.
The film clocked up 10,000 views on YouTube and thousands of shares across Facebook and Twitter in three weeks before the truth was revealed on Spicee.
The bogus film was also featured by a number of French blogs – and can still be found on one site which has more than one million unique visitors per month.
The story of the Conspi-Hunter investigation appeared on November 12: the day before the terror attacks in Paris.
Even if bizarre plots against Cuba attributed to the CIA have been the subject of genuine research among both historians and journalists, the "Conspi-Hunter" project has since become a media talking point and is being taken into French high schools to encourage students to think critically about what they are reading online.
"Today, if you are 15 or 16 years old, you're going to ask questions – but the problem is never the question, it's who gives the answer," Huchon said. "Today – and for the last 10 years – the people who answer questions like 'Was Charlie Hebdo a conspiracy?' are conspiracy theory believers. That's the problem. As journalists we produce content that can answer these questions. But how can you fight people who do not respect any kind of journalistic rules?"
Advertisement
Huchon added: "We've lost the fight for the algorithm. For 10 years, the conspiracy theorists have been writing on the web and they are over-represented. It's because they are more eager to share their views than others, they publish more, they go up in the algorithm. It's a fight for quality of information. And the fight right now, well, we're losing it for good and bad reasons."
The Conspi-Hunter project was featured during France's "national study day on responding to conspiracy theories" on 9 February.
Led by education minister Najat Vallaud-Belkacem, the study day saw 300 academics, educationalists and teachers debate how best to counter disinformation online.
It came amid growing concern in France about dealing with radicalisation in schools in the wake of the terror attacks.
Debate in the UK centres on the Counter-terrorism and Security Act 2015 which put a duty on schools to help prevent students being "drawn into terrorism".
The Department for Education said its Educate against Hate website was intended to help both teachers and parents encourage "young people to challenge conspiracy theories and build a stronger understanding of the risk of extremism".
"We want young people to be able to take advantage of the vast potential that the internet and social media offers to their lives and education," a Department for Education spokesperson said.
"But we also want to make sure they are aware of the risks and dangers. That's why we are strengthening statutory guidance, so that schools are required to ensure that they teach their pupils about safeguarding, including online safety, and have appropriate filters and monitoring systems in place."
Successful conspiracy theories had four ingredients: a villain, a victim, an underlying theory and a twist or revelation
Google told MPs earlier this year that it would pilot a programme to show anti-radicalisation material to users searching for extremist material.
Huchon said successful conspiracy theories had four essential ingredients: a plausible villain, a victim, an underlying theory and a twist or revelation.
"We decided at the beginning not to choose an ethnic or religious conspiracy, or anti-Islam or anti-Semitism – all of these subjects are nitro-glycerine," he added.
"We didn't want the project to escape from us. Perhaps the biggest point was to stay the master of the experiment. If a crazy story about Aids and Cuba could be spread on the internet, imagine what could happen with a crazy story about anti-Semitism or anti-Islam? We wanted a topic that would keep us a little apart from the major trends. We wanted to be able to explain how something totally fake would be repeated and never fact-checked by anyone. We looked at the 'complot-sphere' and decided the best way to understand it was to infiltrate it."
Advertisement
In shaping the Conspi-Hunter project, Huchon and the Spicee team drew on advice from Rudy Reichstadt, founder of France's Conspiracy Watch, anthropologist Dounia Bouzar, sociologist Gérard Bronner, and high school teacher Sophie Mazet, author of the Manual of Intellectual Self-Defence.
Today, Huchon and Spicee's battle against conspiracy theorists is set to continue.
They plan to follow Conspi-Hunter by mapping "real-time revisionism" and plot how conspiracy theories emerge from breaking news stories.
"We don't have the choice, we have to answer the questions in front of us – even if we think the questions are ridiculous," he said.
"We have to answer with intelligence and to the highest standard possible – we need fact-checking and we need to be thinking critically all the time."
Via The Guardian