Last Wednesday night, as he stood on a hilltop outside the Israeli town of Sderot and watched the bombardment of Gaza on the plain below, a Danish newspaper reporter snapped an iPhone photo of about a dozen locals who cheered on their military from plastic chairs while eating popcorn.
Allan Sorensen, a veteran Middle East correspondent for Denmark's Kristeligt Dagblad, then uploaded the image to Twitter with a sardonic caption that described the macabre scene as "Sderot cinema."
The image of the Israeli spectators was taken after 9 p.m. local time on Wednesday, the reporter said, about the same time that what was intended to be a "precision strike" from Israel's military killed at least eight of their Palestinian neighbors, seated in similar plastic chairs at a beachside cafe in Gaza, waiting to watch the World Cup semifinal between Argentina and the Netherlands.
As his image reverberated around the social network, where it was shared more than 10,000 times, the reporter was surprised by the response. It was, he said in a telephone interview from Israel, "nothing new." Similar scenes, of Israeli spectators gathered on the high ground above Gaza to view the destruction below, were documented in a Times of London article and a video report from Denmark's TV2 during Operation Cast Lead in 2009.
Explaining that he has also previously witnessed Palestinians cheering news of bombings that killed Israelis, Mr. Sorensen said that in a war, "this is what happens." Civilians and fighters on both sides, he said, "go through a process of dehumanizing the enemy."
Despite the willingness of some residents to stand in the open watching the war unfold, Sderot is well within range of rockets launched by Islamist militants in Gaza and has been hit in recent days.
When he was a candidate for the American presidency in 2008, then-Senator Barack Obama visited the town and saluted "the brave citizens" of Sderot while standing in front of a collection of spent rockets that had been fired at them from Gaza. He was also presented with an "I Love Sderot" T-shirt that channeled the dark humor of the residents, with the image of a heart on its front pierced by a rocket.
While some partisans of Israel on Twitter accused the Danish reporter of fabrication, the same scene, captured in photographs by several other journalists in recent days, was also witnessed by Mr. Sorensen's colleague Nikolaj Krak, who wrote: "The hill has been transformed into something that most closely resembles the front row of a reality war theater. It offers a direct view of the densely populated Gaza Strip. People have dragged camping chairs and sofas to the top of the hill. Several sit with crackling bags of popcorn, while others smoke hookahs and talk cheerfully."
When the bombs find their targets, Mr. Krak reported, "cheers break out on the hill, followed by solid applause."
Mr. Sorensen, who stressed that he has "a complete understanding of what the people of Sderot have been going through for 14 years," attributed the particularly vitriolic response to his Twitter report to the climate in Israel since three young religious students were kidnapped and murdered in the occupied West Bank last month. The journalist called the "extreme incitement to violence from very right-wing Israeli groups unprecedented" in the many years he has been reporting from the region.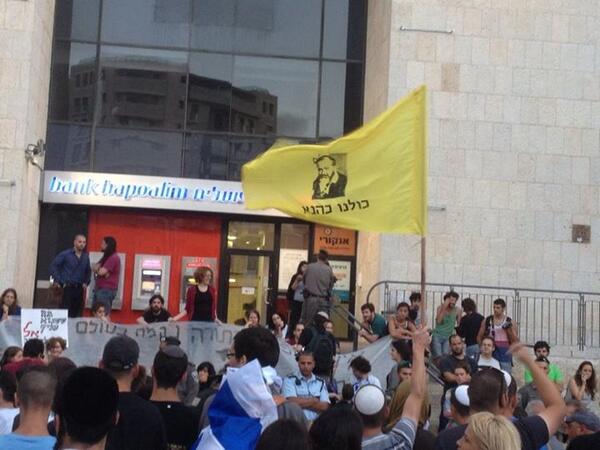 RIGHT NOW: Jewish fascists rally in downtown Jerusalem, chanting "Death to Arabs!", "Traitors!" & "Leftists to Gaza!"
An Israeli blogger, David Sheen, reported that a far-right rally in Jerusalem on Monday was marked by calls to kill Arabs and send Jews opposed to the bombardment to Gaza.